Interpreting

Available types of interpretation:
Simultaneous interpreting
Community interpreting
Telephone interpreting / remote interpreting

Language combinations for interpreting:
English <> German
Spanish <> German
Dutch <> German
Swedish <> German
Other language combinations for interpreting, such as Dutch <> Spanish, on request.
Translation

natural understanding works with SDL Trados Studio 2019 to ensure high quality translations with consistent terminology.
Translation directions:
English > German
Spanish > German
Dutch > German
Swedish > German
Translation directions for certified translations:
English > German
Spanish > German
Fields of expertise

Patents
Solar energy, photovoltaics, solar thermal energy, solar cells, solar panels
Bioclimatic architecture, sustainable architecture, living roof, roof gardens, green walls
Environmental protection, renewable energies, renewables, energy efficiency, sustainable energy, electrical energy storage, smart grids
Health, nutrition, sustainability, awareness
Pet keeping
Tourism, travel
Shipping, charter trips, transport, traffic
Contracts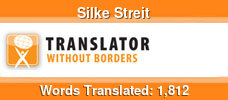 English to German & Dutch to German & Spanish to German & Swedish to German volunteer translator
Language Training
Available languages:
German
English
Spanish
Dutch
Swedish
In beginners courses explanations are given in one of the above-mentioned languages. By way of example, this makes a Dutch course for Spanish native speakers, a German course for Dutch native speakers or an English course for German native speakers possible. All other combinations from the above-mentioned languages are also possible.

Teaching method:
Over many years I developed my own, tried and tested, successful teaching method, which brings the language closer to adult learners in an entertaining way, so they can use it actively at work and when travelling.

The teaching is customized to meet the specific needs of the participants. The teaching aids include films, music, games and a good dose of humour.

Each person actively participates in every lesson and is guaranteed to get the chance to speak.

As I took part in numerous language courses myself, I know exactly which methods will motivate participants and help them to succeed in learning.
The language training is suitable for both business and private clients.
See you in the lesson!
Silke Streit

Information and registration: This email address is being protected from spambots. You need JavaScript enabled to view it.